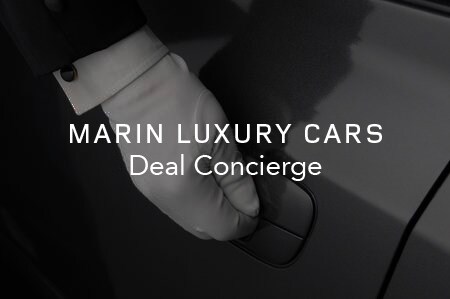 Experience car buying with the Deal Concierge!
Step 1 - Assignment
Each client, including you, will be assigned a personal Deal Concierge when working with Marin Luxury Cars. 
Step 2 - Processing
The Deal Concierge will guide you through the process so it will be seamless and transparent! 
One of the jobs of the Deal Concierge is to make sure the client will not pay too much! At your request, the concierge, will honor any written deal from another store within our area of influence (100 miles radius from the store). Simply give a written document details about the deal you'd like to be reviewed including:
VIN#, money factor (if applicable) 
APR (if applicable) 
Down payment or out of pocket money due from the client
Term
Miles (lease only) and 
Trade information (if applicable)
Step 3 - Proposal
Then (if applicable), t
he Deal Concierge will give you, a 7-day appraisal that is good whether you buy from us or not, 
in writing
. We promise to pay top dollar for your trade.
Step 4 - Presentation
Finally, 
an Encore Delivery will be set up at your convenience and at your personal location so that the Deal Concierge may go over the features and answer any question you may have about your new vehicle. 
For more information, simply fill out the inquiry form and browse for the perfect vehicle through our inventory!